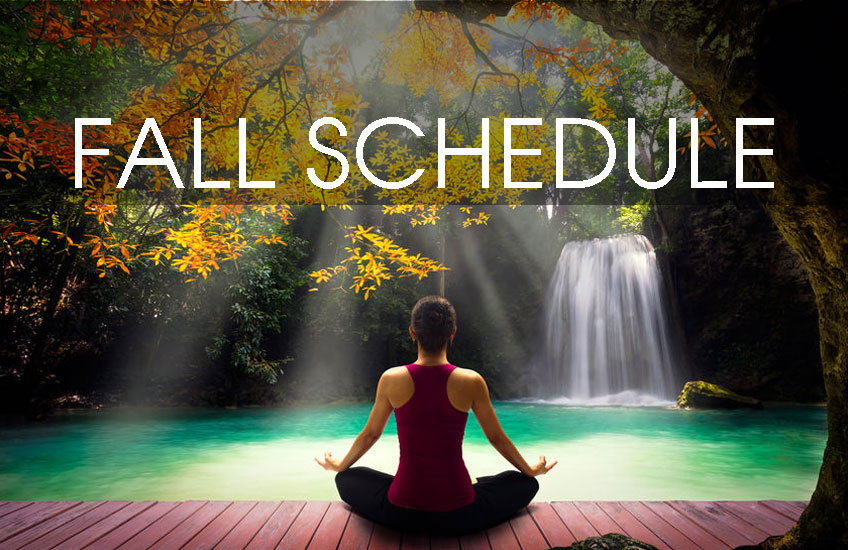 FALL SCHEDULE
begins September 5th
SAVE THE DATE: Hamstring Workshop with Colleen
Sunday, Sept. 17th, 2 – 4pm, with Colleen Gallagher
MONDAY
8-9:30am     Level 3  Colleen
10-11:30am  Level 2  Judy
12-1:00pm    Level 1  Judy
6-7:30pm      Restorative staff
(teacher of the week will be announced)
TUESDAY
9:30-11am  Level 2  Stephanie
6-7:00pm   Level 1  Colleen
WEDNESDAY
8:45-9:30am FREE. Living your yoga. Colleen.
Discussions on the spiritual in everyday life with short meditation.
10-11:30am  level 3 Colleen
12-1:00pm    level 1. Ross
THURSDAY
9:30-11:00am  Level 2  Stephanie
6-7:30pm          Level 2  Julie
FRIDAY
10-11:30am Level 2  Ross
12-1:00pm   Level 1  Ross
SATURDAY
8-9:30am    Level 3 Colleen
10-11:30am  Level 2 Colleen
SUNDAY
9:30-11am  Level 2 Amy
11:30-1pm   Level 2/3 Marti ( starts October 1st 2017)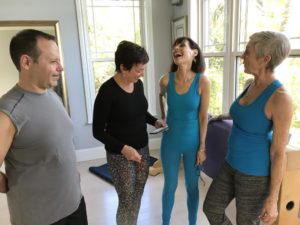 CLASS DESCRIPTIONS
"The beginning is the most important part of the work." — Plato
LEVEL 1 – This one hour class is perfect to establish a firm foundation in yoga.  It is designed for the student new to yoga or the Iyengar method. Can serve as a refresher to the student returning to class after some time away or simply for someone who wants to reconnect with the basics. Standing poses, as well as basic concepts of movement are emphasized.
You are growing, moving beyond fear.  You wonder WHAT'S NEXT??
LEVEL 2 – This 90 minute general level class focus is to increase strength and flexibility to the legs, arms, and spine. Shoulder stand is introduced along with the concepts of headstand.
You have taken the classes, scratched the surface – NOW DIVE DEEPER.
LEVEL 3 – (Intermediate) At this level regular practice of yoga assumed. A basic understanding of the mechanics of shoulderstand and headstand required. The subtleties of foundational asanas are explored while expanding your horizons of intermediate poses.
You're growing! You have passion! You love to learn and CHALLENGE YOURSELF.
LEVEL 4 – Friday afternoon Continuing Education
Here's what's required:  Ability to do a 5 minute Sirsasana, 10 minute Sarvangasana, kick up into full arm balance, and push up into Urdhva Dhanurasana unassisted. If you have a chronic injury you must know how to take care of yourself in class.
"Nothing at all in our lives link us to the present except the state of being present."  — BKS Iyengar
RESTORATIVE YOGA
This restful class is a wonderful respite from our busy hectic world. Asanas are supported so the student can deeply relax and re-energize.
"Learning never exhausts the mind" — Leonardo da Vinci
AGELESS/GENTLE YOGA – a yoga class for the mature person, or for someone recovering from an illness or injury. The class objectives are to improve range of motion, posture and balance. A combination of yoga on the chair, some standing to increase strength and balance and floor work to increase flexibility.
"To Live is to Learn" — BKS Iyengar
SISTERS IN SOBRIETY – Yoga, meditation and a meeting. Last week of the month is a step meeting, followed by meditation and yoga.  Open to all A's.
PRICES
*20 Class Package = $220
*10 Class Package = $140
*5 Class Package = $75
Level 1/Beginner 1 Hour Class
*10 Class Package = $100 | Drop in = $13
Drop-in Class (other levels) =$20
Florida Resident New Student Drop in = $10
(Level 1 or 2 ONLY)
Yearly Unlimited Classes = $1700
*All packages have 3 month expiration