Patricia Walden Iyengar Yoga Workshop
APRIL 25th – 29th, 2018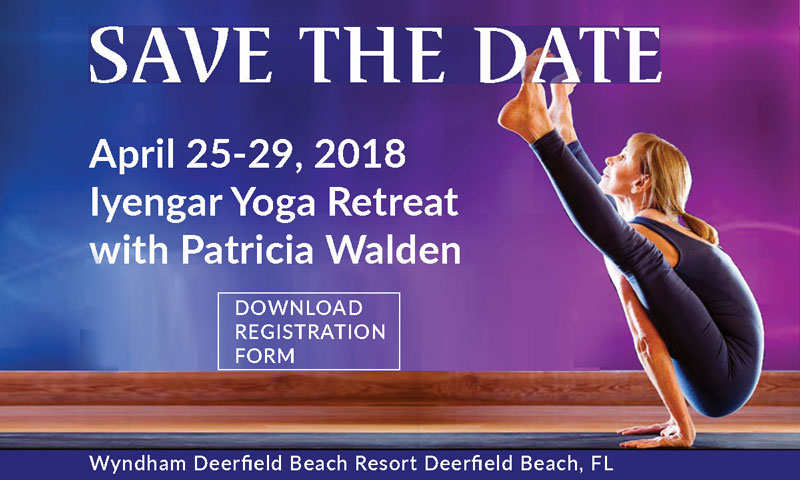 Wyndham Deerfield Beach Resort
WYNDHAM HOTEL RESERVATIONS
Total price:  $595
(single classes not available)
Prerequisite: 3 year Iyengar Yoga Student, must be able to do 5 minute Sirsasana, 10 minute Sarvangasana and push up into Urdhva Dhanurasana. Students must be able to work with their injuries.
This is NOT a therapeutic workshop.
BRING YOUR PROPS: Mat, 3 blankets, belt, 2 blocks and a chair. We will only provide chairs for out of town students. Also bring copy of the Yoga Sutras, preferably B.K.S. Iyengar version.​
Class Schedule
Wednesday, April 25 from 6:30 pm – 8:30 pm
Thursday, April 26 from 9:30 am – 12:30 pm and 4:30 pm – 6:30 pm
Friday, April 27 from 9:30 am – 12:30 pm  and 4:30 pm – 6:30 pm
Saturday, April 28 from 9:30 am  – 12:30 pm  and 4:30 pm – 6:30 pm
Sunday, April 29 from  9:30 am – 12:30 pm
Monthly Restorative Yoga
Last Thursday of Every Month, 6-7:30 pm
With Colleen Gallagher
Feeling exhausted and depleted is often a result of endless performing, competing, and acting in life, and gradually losing touch with oneself. Over time this might lead to low self-esteem or ending up in dead-end situation. Body, breath and movement are the tools to get reconnected with oneself; in this class you will have specific yogic sequences according to your capacity to address this situation.
Discussion Group
with Heidi & Colleen – FREE
Sunday, February 4, 1:30 – 3:30
Bringing our yoga off the mat. Topics change monthly.  Join us for friendship & connection. Light refreshments will be served.
All About Chakras
Thursdays 11:30 am to 12:45
February 1, 8, 15, $40 for 3 class series
Explore the qualities & attributes of each chakra & how to keep your  entire energy system balanced.
More information: Karen   516-238-1428
Weak in the Knees
with Colleen Gallagher
March 3, Saturday,  2-4:30 pm, $40
11 million people complain of knee pain. Yoga increases stabilizing actions of the big leg muscles to exert equal pull on the ligaments to keep the joint aligned.  Protect & modify basic  poses to protect your knee from injury, find solutions to work with minor knee pain in asana class.
Yoga Immersion Series (closed – stay tuned for future dates)
with Sr. Iyengar Instructor Colleen Gallagher
"Teaching yoga is a very difficult subject, but is one of the best services you can do for human beings. Work, not as a teacher, but as a learner in the art of teaching."  BKS Iyengar
6 SATURDAYS
December 2 | January 20 2018 | February 24 | March  3 | May 18 | June 16.
10 am – 6 pm. Cost $650 for the 6 class series
YOGA IMMERSION DAY is geared to the teacher or serious student who wants to deepen their understanding of the wonderful science and art of yoga. Receive support and guidance in becoming a certified Iyengar yoga teacher.
6 MONTH CURRICULUM
1. 90 min asana class 2. Study of the yoga asanas as presented by BKS Iyengar 3. Clear effective language to connect with your student 4. Observation and demonstration skills 5. Systematic sequencing of asanas in a class 6. Pranayama 7. Ropes and chairs (led by Judy Rosenzweig) 8. Basic anatomy (led by Ruth Bradley) 9. Sanskrit pronunciation & sutra study 10. Variations for menstruation/pregnancy, knee, lower back, hip, & shoulder problems.  Contact Colleen for more information and books required.